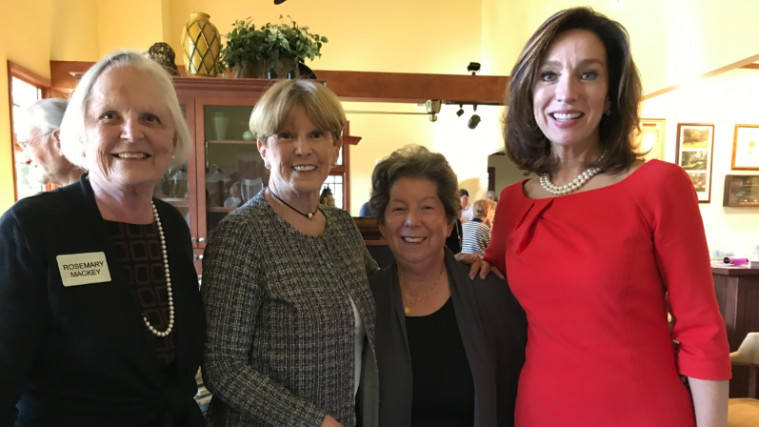 Photo: Teresa Tomlinson with Skidaway Democrats officers (l-r) Rosemary Mackey, Marilyn Michaels, and Cubby Plonchak, who hosted the event.
Teresa Tomlinson, candidate for the Democratic nomination for the U. S. Senate, says she "can't stand the dysfunction in Washington anymore" and, if nominated and elected senator from Georgia, would draw on her experience as a former mayor to work to end it. 
            "Mayors are required to make a government run," Tomlinson told the Skidaway Island Democratic Club at a recent "meet and greet the candidate" event at The Landings. 
            "I've been in these moments for decades," said Tomlinson, who served two terms as the first female mayor of Columbus.  "My record on being able to deliver is there, it's real." 
            A lawyer who specialized in cases involving complex litigation, crisis management and strategic solutions, Tomlinson recalled that the Senate was once regarded as the world's greatest deliberative legislative body, then asked: "What is it now?" 
            Answering her question, she said, "These days it looks more like the World Wrestling Federation.  If we keep electing the same people that will not change."  Saying hundreds of bills passed by the House of Representatives lie dormant waiting senatorial action, Tomlinson said, "We're addicted to the ideological fights of the past." 
            She said Republican Senate Majority Leader Mitch McConnell stands in the way of passage of pending legislation but if she is elected McConnell will be replaced by a Democrat, anticipating that she can be part of a Democratic election wave if the party can produce a large turnout and capture control of the Senate.   
            "Georgia is not as red as everyone thinks," Tomlinson said, noting that President Trump carried the state with 50.4 per cent of the vote and Republicans won three statewide elections with a margin of less than 2 per cent.
            Pronouncing herself as "a candidate who can win," Tomlinson noted that she carried Columbus, a city of more than 200,000 with a minority majority, with 63 per cent of the vote and has voting strength in rural counties. 
            "Rural voters may not understand how important they are in statewide elections because no one has reached out and told them that," Tomlinson said, pointing out she is an eighth generation Georgian with strong ties to the state's central rural region.  "We can connect with rural voters and I intend to." 
            Turning to other issues, Tomlinson described President Trump's health care approach as "junk," saying it wouldn't provide the protections of the Affordable Care Act like protecting preexisting conditions and women's reproductive rights.  "Affordable health care and expanding Medicaid are essential to the economic infrastructure of our lives," she said. 
            She also said Trump's "pointless tariff wars hurt Georgia farmers" growing corn and soybeans and is especially hard on those growing pecans because "China is the largest consumer of pecans." 
            Tomlinson endorsed new immigration legislation, saying "immigrants are essential to our future economic security and farming and urban communities." 
            Commenting on her tenure as mayor, Tomlinson said her crime-fighting efforts reduced crime 42 per cent by reforming the bail bond system and adding public defenders, while her work on the budget saved taxpayers millions of dollars, protected pensions and provided health care for workers, resulting in Columbus named one of the 25 best run cities in America.
The session with Tomlinson was the second the Skidaway Island Democratic Club has hosted.  Earlier this year, the club heard from Democratic senatorial candidate Sarah Riggs Amico. 
            For more information about the Skidaway Island Democratic Club, contact the Democratic Club at skidawaydemocrats@gmail.com or the club's co-chairs, Marilyn Michaels, mzm.consulting@gmail.com, or Gwen Jordan, gjordan5@comcast.net.